Ask Dylan: Easter Edition
Our 2021 Easter Collection has arrived!
Hear from Founder & CEO Dylan Lauren on her favorites for Easter & ushering in a bright, happy new season.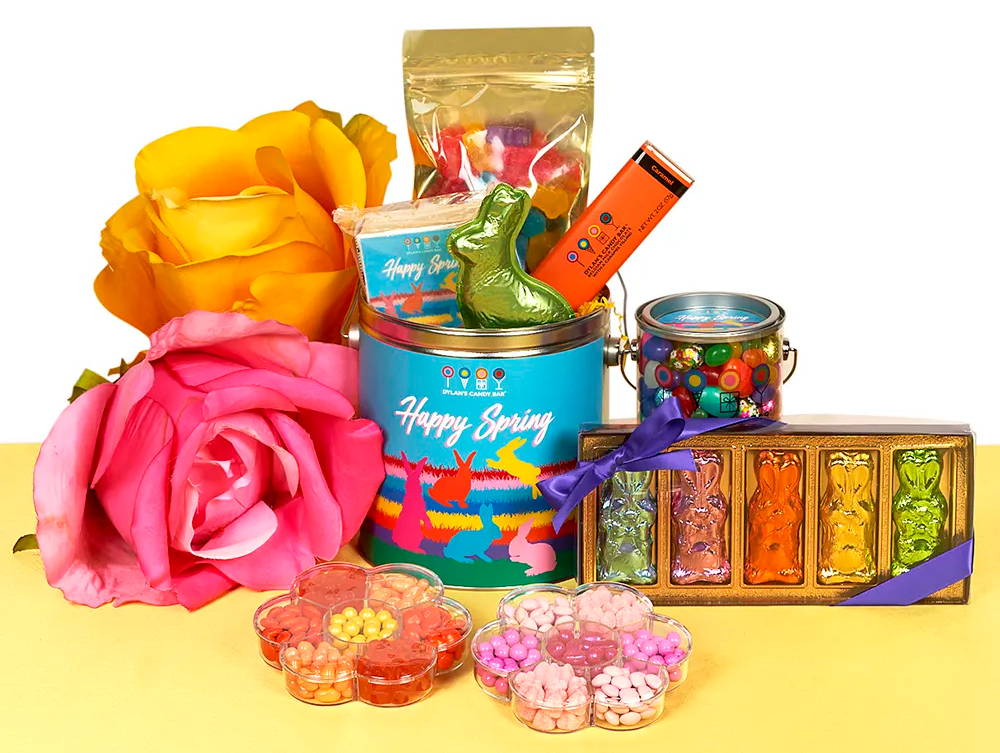 What was the inspiration behind this collection? 
My inspiration was my love of rabbits. I wanted to show rabbits because it's an Easter theme and my favorite animal. They represent spring and are so cute. We also wanted to get away from the pastel colors that we used last year and do more of a primary color bright Easter palette. We wanted to make this year brighter and even happier!
What are your favorite items in this collection?
I was just at the shoot and I have to say, everything came out so beautifully it's hard to pick a favorite! I love the Best Easter Ever Bucket with the pretty bunny graphic on it. It's such a great item because it's beautiful, reusable and it comes with the Krispy Treat which is probably my favorite individual item. It's a beautiful gift or Easter basket since it has all our classic-inspired holiday treats like the Chocolate Foiled Bunny, our chocolate bars, a beautiful egg-shaped lollipop and more. It's a great gift and I love it!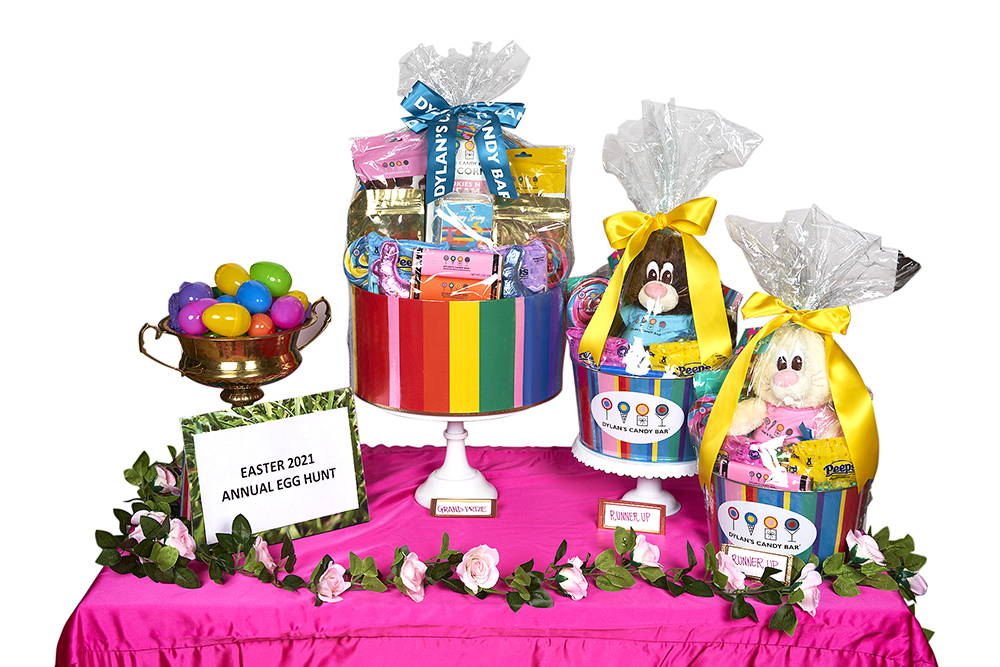 How do you envision customers using this collection?
I celebrate both Easter and Passover and I really appreciate celebrating and giving gifts to friends and family. The really adorable and beautiful candy helps to celebrate the change in seasons and be like "yay, happy Spring! The snowstorms are over." It's a good excuse to treat the special people in your life, and all of our items work for that.
We have a bunch of great Easter basket stuffers and we've created a basket specifically for a DIY Easter egg hunt with plastic eggs and candy. We also have giant Easter baskets with Chocolate and Vanilla the Bunny which are our mascots. We also sell those bunnies individually and they make for an amazing gift for really anybody, or as an egg hunt prize. They come with Easter candy this time of year.
Personally, I like to set a table that looks fun and special whether it's for brunch or another gathering. I can see people using our candies to decorate or give as favors or set up as place settings. We have so many things like Paint Cans that make nice favors, and Tackle Boxes are a good for a gift or favor.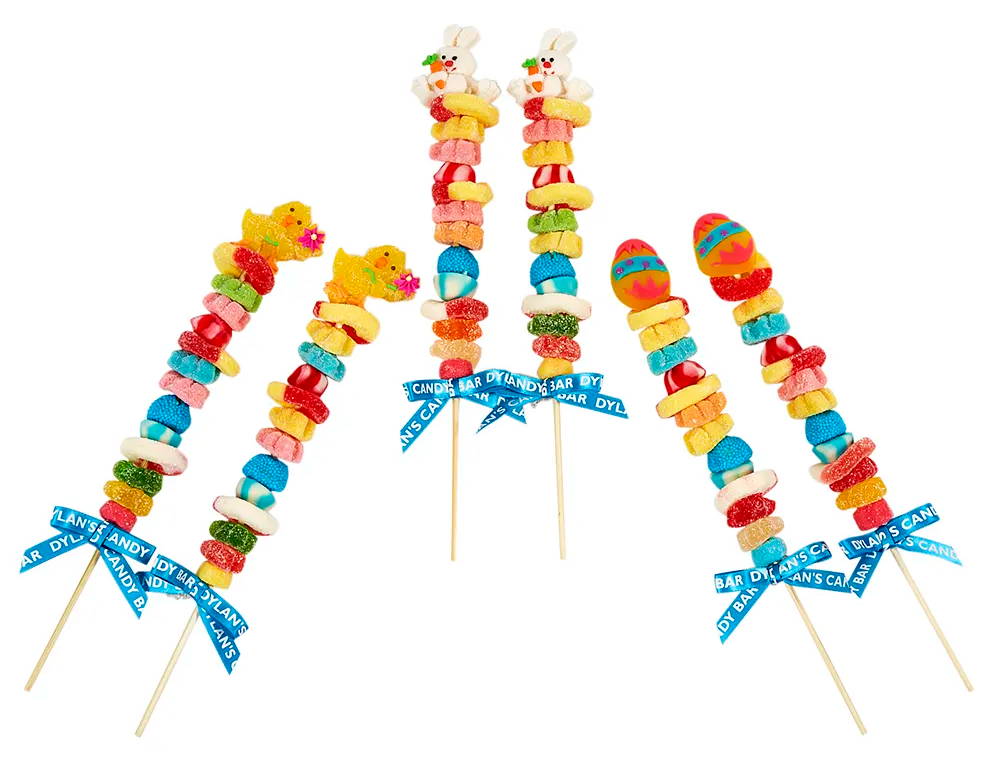 Which treats from this collection are you excited to gift to others? Or use yourself?
I had a few bites of the Krispy Treats at the photoshoot. I got so excited about them that I actually snagged some of those for my husband and my kids! So those are good, and so are the Kebobs with marshmallow toppers. I'll definitely putting them on the breakfast table for Easter.
I think the flower shaped fillable with the monochromatic candy is so sweet and really feels happy like Spring. They could really be for any Spring event like baby showers or bridal events as well.
I honestly like this whole collection! The Bulk Mixes we have for Easter are amazing for so many things, too—stuffing Easter eggs, decorating, filling centerpieces. You could even bundle some of the Bulk Bags together for an Easter basket.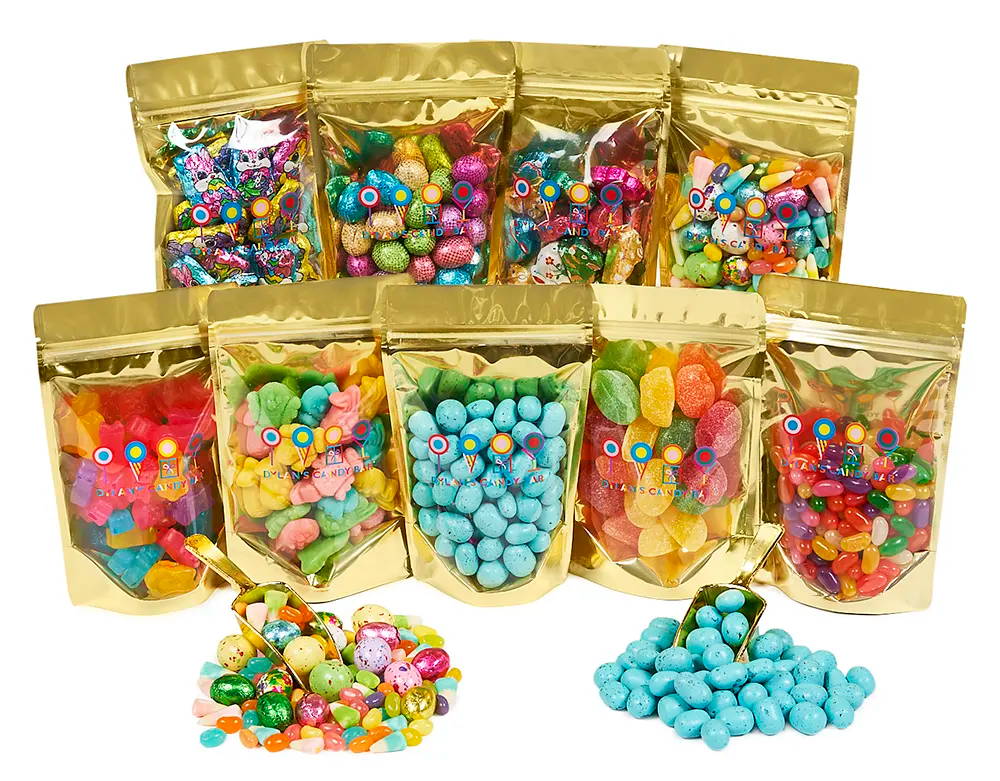 Do you have favorite decorating, recipe, or crafting ideas using items from this collection? 
We had a lot of fun at the shoot, which is where we practiced different crafts, decorating ideas and lifestyle things. We decorated cupcakes with these really beautiful bright dextrose bunnies and flowers so that's obviously super fun.
I was actually playing with another one of my favorites, the truffle bunnies. The set of bunnies are a really elegant gift and so I was thinking if I were to do a table setting, I would do a runner of fake grass and I would put these truffles on it. I'd also incorporate some lollipops and jellybeans to create Easter scenes. You could do this with any of our Easter treats, especially the Bulk Bags with all the fun shapes.  
I think a lot of the ways we decorated the tables in the shoot show good ideas. We took the flowers and napkins and created sort of like a bouquet with a fork in the knife and then put the flower as like the topper. We really played with the bright colors so just everything was a very bright pop. The foiled rabbits in the Easter Parade rainbow pack are so colorful and work well as a place setting or you could line them up like a rainbow on the table.
The other thing I like about Easter is the element of surprise, like having a bunny sitting in your seat or treats already sitting in your cup. Anything bright, playful and fun is great.
You can also make up games with estimation, pouring candies into a jar and having people guess how many chocolates or jellybeans. You could do fun things with monochromatic centerpieces too, if you want to separate the candy by color.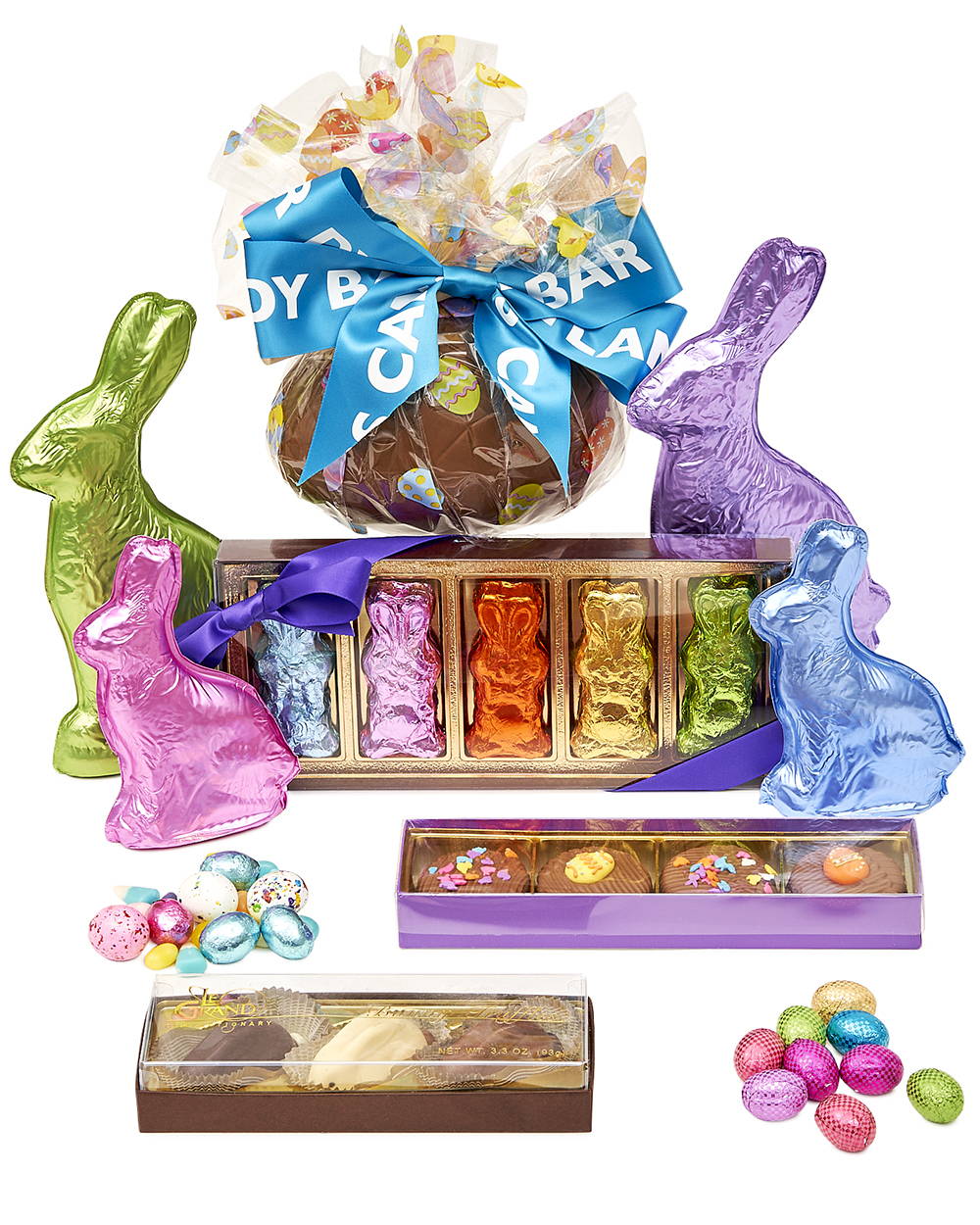 Are there any extra "fun facts" about this collection? 
In the design with the rabbits, the colorful grass is representative of our logo. It was something I wanted to use for Easter for a long time, so I'm excited we got to use it.
I literally just tried everything from the shoot so I can definitely say it's a delicious collection! Personally, Easter has some of my favorite types of candy like marshmallow. And the bright colors are the best! I love how it tastes, and it's just such a beautiful collection that I almost don't want to eat all of it, it's so pretty.
Hop over to our Easter Collection to see all our bright & festive sweets, baskets & more.