Jenny Lauren and Dylan Lauren Talk Color, Candy and the Bright Joy Collection
Jenny Lauren Jewelry is designed and hand-made by Jenny Lauren. The Bright Joy collection is filled with a spectrum of colorful gemstones, glass beads, 14k gold and sterling silver. The pieces are playful and inspired by bright happy candy as well as the joy of spring awakening.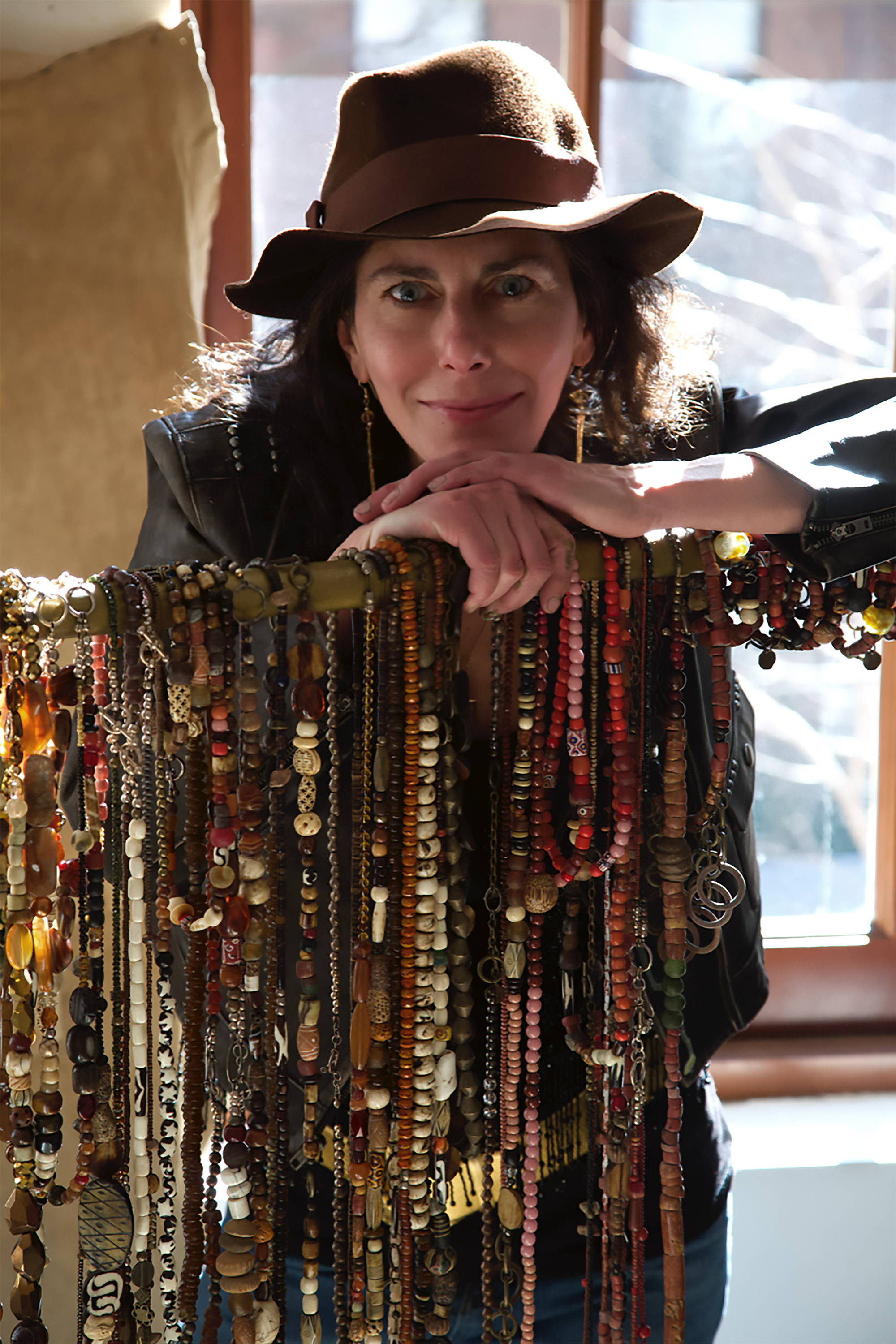 Jenny Lauren's ultimate goal for BRIGHT JOY was to create a very happy collection of jewelry using lots of bright colors. After gathering the materials for her bead palette trays, she immediately laughed because the studio looked like a candy land and reminded her of her cousin Dylan Lauren, the ultimate "Candy Queen!" She could feel Dylan's energy with her throughout the process and Dylan became her muse for this collection.
Founder & CEO Dylan Lauren sat down with Jenny Lauren to talk about the inspiration behind her product. Learn more about the new collection below!
DYLAN: I love the collection so much! You nailed it with delicious colorful beads that you will need to make sure I don't eat! Thanks so much for including me and I am honored to be affiliated with this bright and joyful collection you made!
JENNY: DYL! Thank you so much! You are too funny! I totally understand…I want to eat all my beads! I hope you know you were my muse for this collection. I think not only do you love candy, yet I always remember you loving bright colors. I think we share that passion for color. Your candy stores make everybody so happy because they are so creative, vibrant, and cheerful!
DYLAN: Thanks Jenny. Should we talk a little bit about the BRIGHT JOY Collection? What piece of jewelry in this collection made you smile the most as you were creating it and why?
JENNY: I had so much fun creating this whole collection, although I smiled a lot when I was creating the LONG BRIGHT GUM BALL NECKLACE because the round colorful jade beads resemble bright gumballs! I wanted a huge red gumball machine as a kid. Thank God I never got one because I used to be so addicted to chewing gum as a teenager that I actually had to quit!
What's your favorite piece from the collection?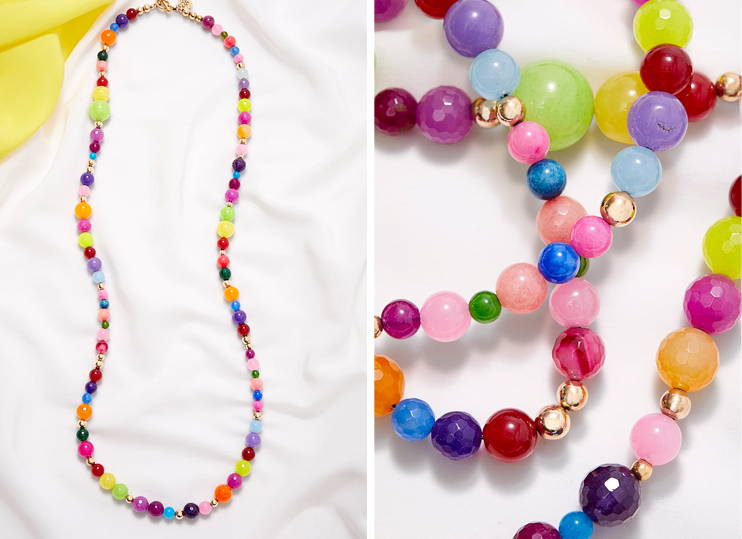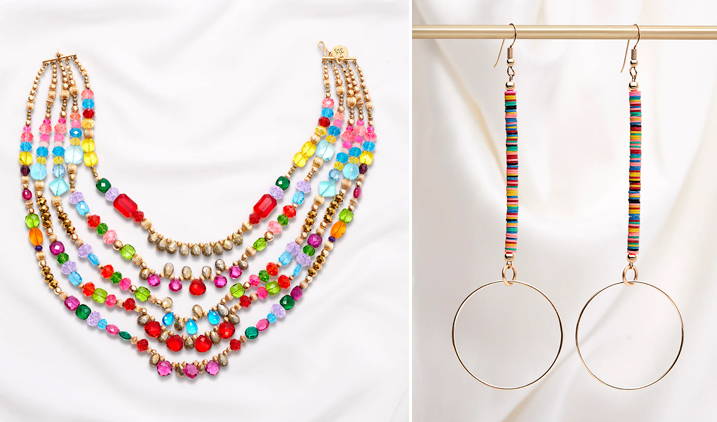 DYLAN: When creating each piece, do you first choose the color or the type of material?
JENNY: I create my palettes first so I gather any material I might want to explore using for the entire collection and spread them out on trays. I usually start with choosing the colors I want to work with as a guide.
DYLAN: I love how colorful, fun, youthful and yet so sophisticated each piece is. It totally does the trick of awakening the young at heart. Is there a specific target age group you had in mind for this collection to appeal to?
JENNY

: Awww…thank you for the kind words. I am a big kid at heart but there is absolutely no target age group for this collection. In fact, I had a trunk show a few years ago in East Hampton, New York with about 20 of my collections separated on different tables and the most popular table people of all ages kept going to was the one with "BRIGHT JOY" displayed on it! The LONG CANDY STRIPE GOLD HOOP EARRINGS that are one of your faves have always been a popular choice.
DYLAN: Since it's been studied that precious stones and materials emit healing energy and bright colors have an effect on one's mood, which pieces of jewelry emit the ultimate rays of positive energy and which do you feel can brighten a sad day, a lonely day, a sleepy day, an unmotivated day and help transform them?
JENNY: That's a great question! You are totally correct that there have been huge studies about the healing powers of gemstones and materials. Many healers use them in their practices with great benefits.
I have studied some about the various healing properties, however I don't have the expertise to prescribe any pieces of my jewelry to people. I do say a positive prayer of intention over all my materials as soon as they arrive at my studio and play soft beautiful music to bless them. I have a strong belief that gemstones and materials that come from the earth are all healing.
When it comes to colors I think they have more of an effect on people's moods and emotions. It's important when purchasing pieces of jewelry that one chooses pieces that are attractive to them, move them, or call to them. We are constantly changing, and our emotions ebb and flow. When I put on a piece sometimes it feels like the right one for that day, and sometimes it doesn't. Yet it may feel right and inspire me when I put the same piece on the next day or another day.
Wearing bright colors usually lifts people's moods! Orange and yellow jewelry as well as a combination of multiple bright colors makes me happy! In terms of this collection, I think the majority of these pieces are playful and hopefully people will enjoy wearing them.
DYLAN: Those are some great insights Jenny. I love eye candy and candy and this collection masters both! Were there any actual candies you felt inspired by for this collection?
JENNY: GUMBALLS, SKITTLES, SWEET TARTS!
DYLAN: What's your favorite candy?
JENNY: Twizzlers red licorice. Dylan, you are the "Candy Queen"...what are your favorite candies?
DYLAN: I have different favorite candies at different times of the year. Around Easter I look forward to Cadbury Cream Eggs (especially the cream part in the center); in the summer I love marshmallows & marshmallow fluff as well as red Gumballs and pink bubble gum. And year round I gravitate towards chewy red gummies like Swedish Fish and Swedish Berries.
What candy or confection do you like to snack on while you are working? Do any in particular help give you extra concentration or creative juices?
JENNY: There's nothing better than a SNICKERS with a cup of coffee when I need some energy! Speaking of coffee, why don't we go get a cup and share something yummy? Thank you so much Dylan for being such a big part of BRIGHT JOY and our first installment of CONVERSATIONS WITH JENNY!
---
Want to win a sweet Summer Rainbow prize? Head to our Insta to try your luck!