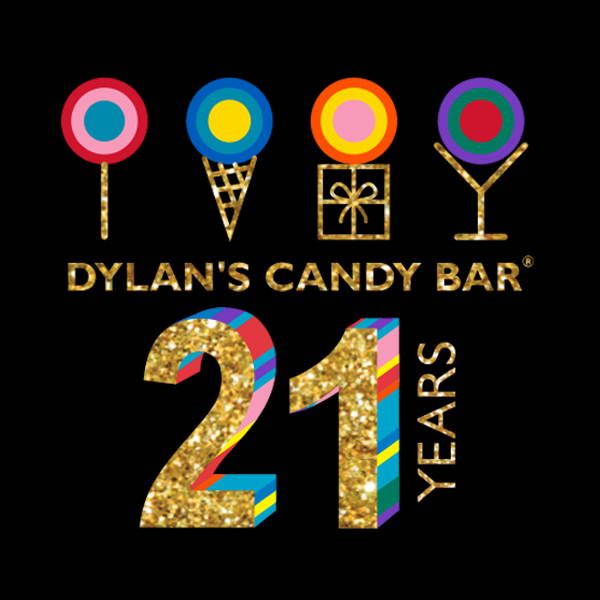 How well do you know Dylan's Candy Bar? Test yourself on 21 years of sweetness with the questions below — keep score & check your answers at the bottom to see how you did!  
1. Each symbol in the Dylan's Candy Bar logo represents a different aspect of the brand so customers will know it's much more than a candy store. What does this symbol represent?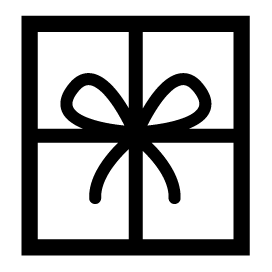 Ice Cream Parlor & Café

Candy

Gifts & Personal Shopping for All Celebrations

Candy Cocktails & Events
2. With a passion for candy and an artist's eye, Dylan designed the Dylan's Candy Bar branding and packaging to make all of its products extra special, luxurious, and hip gifts. What two main items inspired the brand's signature stripe? 
Moon Pies and Satellite Wafers

Gold and Glitter

Fashion Ribbon Belts and Unicorn Pops

Chocolates and Taffy
3. What is the mascot of Dylan's Candy Bar?
Caramel the Unicorn

Gummy the Bear

Chocolate & Vanilla the Bunny

Sprinkle the Dog
4. Dylan pioneered creating the world's largest confectionary emporium in 2001. In which city was our flagship born?
Miami

LA

Chicago

New York
5. Our stores are designed with large Pop Art-inspired candy installations. What is our most iconic piece?
Candy Floors

Lollipop Tree

Giant Chocolate Bar

Gumball Mosaic
6. What are some candies featured in our signature "Candy Spill" wallpaper? Select all that apply.
Lollipops

Gummy Bears

Chocolate Bars

Rock Candy Sticks

S'mores
7. Our newest store is right on the beach and includes a walk-up window where you can order some sweet desserts. Where is it located?
New York City

Honolulu

Los Angeles

East Hampton
8. Inspired by a lifelong love of animals and an avid desire to come to their aid, Dylan created which of the following charitable foundations?
Dylan's Candy BarN

Home Sweet Home

Sweet Pups

O.V.E
9. How many colors are featured in our iconic "candy stripe"?
4

6

8

9
10. How many chocolate bars are in the Anniversary Edition XL Chocolate Bar Sampler?
15

24

20

35
11. What is the name of Dylan's rescue pet?
Sugar

Jersey

Wonka

Peeps
12. What is Dylan's Candy Bar's official mission?
To Give Everyone That Visits Us a Sugar Rush

To Have the Most Types of Chocolate in Any Candy Store

To Merge the Worlds of Fashion, Art & Pop Culture with Candy to Inspire the Creative Spirit & Inner Child in All Who Visit

To Inspire Our Guests to Try More Sour Candy
13. Dylan's Candy Bar has Created Collections for the Following Movies EXCEPT:
Willy Wonka & the Chocolate Factory

The Wizard of Oz

Mean Girls

Trolls
14. Dylan's Candy Bar carries some unique treats. Which item is NOT available on our site?
Gummy Pizza Slices

Salty Licorice

Chocolate Covered Gummy Bears

None of the Above
15. What is the name of Dylan's first book? Hint—it starts with "Dylan's Candy Bar:"
Unwrap Your Sweet Life

America's Candy Girl

Indulge Your Sweet Tooth

You'll Want To Eat This
16. Celebrities love candy & visiting Dylan's Candy Bar! Can you guess which treat Blake Lively, Ricky Lauren & Will Ferrel chose to fill their Famous Favorites Mini Bin?
M&M's

Sour Patch Kids

Starburst

Peanut Butter Cups
17. Dylan's twins are the absolute sweetest! What's their nickname?
The Gumdrops

The Twinkies

The Gummy Bears

The Tootsie Pops
18. Dylan has a collection of over 3,000 figurines, toys & beyond featuring her favorite animal. What is it?
Horse

Rabbit

Dog

Pig
19. Each Dylan's Candy Bar location is more than just a store, it's an experience! What's the word we love to use to describe our shopping philosophy?
Retail-tainment

Sweet Shopping

Sugary Spending

Browse-tastic
20. What's one of the iconic seasonal treats that Dylan's Candy Bar stocks year-round? Hint: It's one of Dylan's faves!
Cadbury Crème Eggs

Candy Corn

Conversation Hearts

Snowman Gummies

 
Answers: 1. C, 2. C, 3. C, 4. D, 5. B, 6. A, B, D 7. B, 8. A, 9. D, 10. B, 11. B, 12. C, 13. D, 14. D, 15. A, 16. A, 17. B, 18. B, 19. A, 20. B
There are more ways to celebrate! Keep an eye out for sparkling Limited Edition items, special savings, fun events & more.