There's a lot to love about our 2021 Valentine's Day Collection…just ask Founder & CEO Dylan Lauren! Check out Dylan's take on the perfect heart design, her favorite V-Day gifts and everything in between.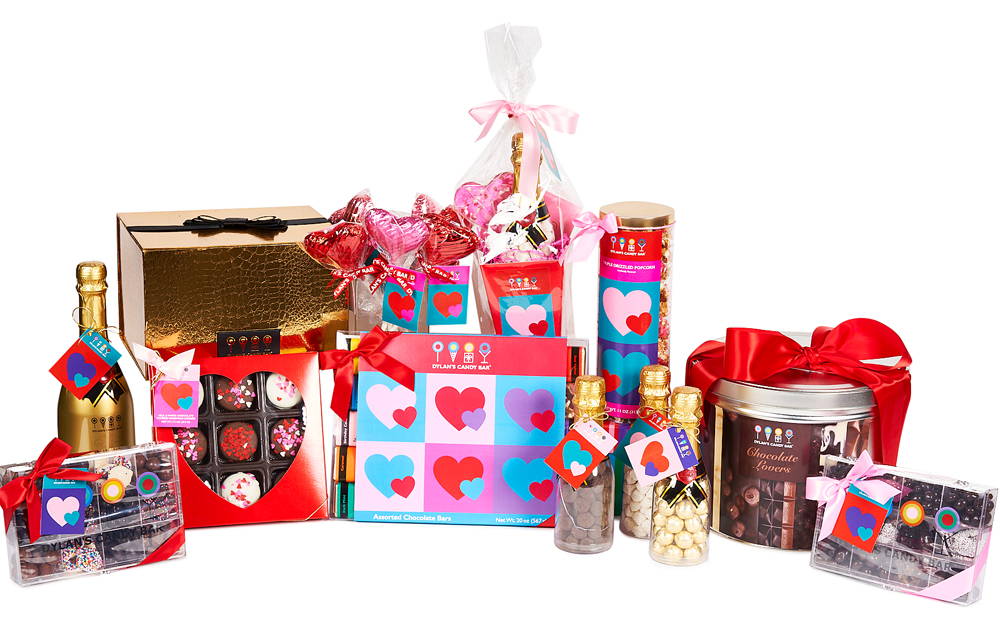 What was the inspiration behind this collection? 
It started with a graphic that was on a gift that my mom gave me for Valentine's Day. It wasn't even the gift itself; it was the glossy pink wrapping paper with a red sticker on it in the shape of a heart that I found so perfect.  
I had been trying to figure out what the Valentine's graphic would be, and I knew that we would like to use the seasonal colors within our color palette, so naturally red and pink came up. And then, you know, we have hot pink and then add purple, turquoise and royal blue. We mixed combinations of those colors in hearts and in the background of the graphics, keeping in mind that color would be the star.  
We also were careful not to say "Happy Valentine's Day" too much. A big part of the graphics was that we know Valentine's Day is only one day and we feel like this year especially, giving gifts to make people you love smile, whether it's Valentine's Day or any day, is really important. Especially in the gloomy months of February and March, we didn't want people to just reserve our sweet treats for that one holiday. Instead of putting a label on it, we spoke with bright pops of color and hearts.  
What are your favorite items in this collection?
My favorite type of candy is always something red and gummy, it's just what I gravitate towards. I like that this holiday happens to include a lot of the red gummy stuff in our bulk bags and our fillables. I like how we put a twist on our everyday product to make it festive for the season. The color palette changes with it and makes it feel relevant and totally different.  
For this collection, I like how we bundled the champagne bottle filled with the gold chocolates with other product for a really special gift. It came out beautifully. I would be proud to give them to anyone in my life that I care about or want to "wow" with a gift. It's great for Galentine's or an older friend; I'll probably give it to my mom. I also happen to love the gold collection; our luxe gold collection box is one of the things I think is most impressive to gift. I also think all of our tackle boxes are very fun, whether it's a tackle box specifically from the collection or one we carry every day, like the chocolate lovers. 
How do you envision customers using this collection?
I think there's really something for everyone. There's the secret admirer gift, there's a gift for someone you know really well, there's the Galentine's or girl's night out gift, whether you send it to everybody and meet virtually or have a get together. I think no matter who you're looking to buy for, there's something for that special person.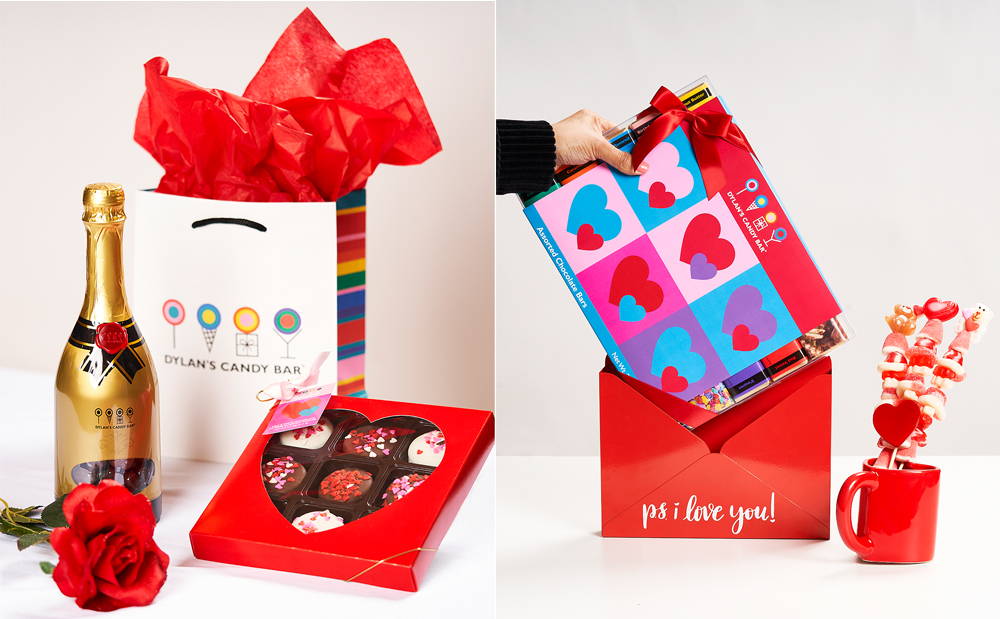 Which treats from this collection are you excited to gift to others? Or use yourself?
I think I'm going to give my kids the plush stuffed Chocolate & Vanilla with the candy. Even though they're bunnies, they're not just for Easter! We theme the candy that goes with them specifically for the holiday to make it special. I like to have their presents waiting at breakfast, and I'd typically pair the pink Vanilla bunny with other pink candies like our candy bracelet or a gummy kebob.  
The tackle boxes are great gifts; I would probably give one to our nanny because she's like family to us and we love her. I'll probably make it from the kids. It's great because she likes a little bit of everything, and our tackle boxes contain so many different things to try.  
For Paul, my husband, I like the chocolate basket. Then the popcorn is great too, especially with graphic packaging. It's very pop art inspired, kind of Andy Warhol. Those are just fun to share with your whole family. If you don't know what to get, it's a fun pick with all the colors and then inside it's got the great texture with caramel popcorn and a fun surprise of pink white chocolate drizzle.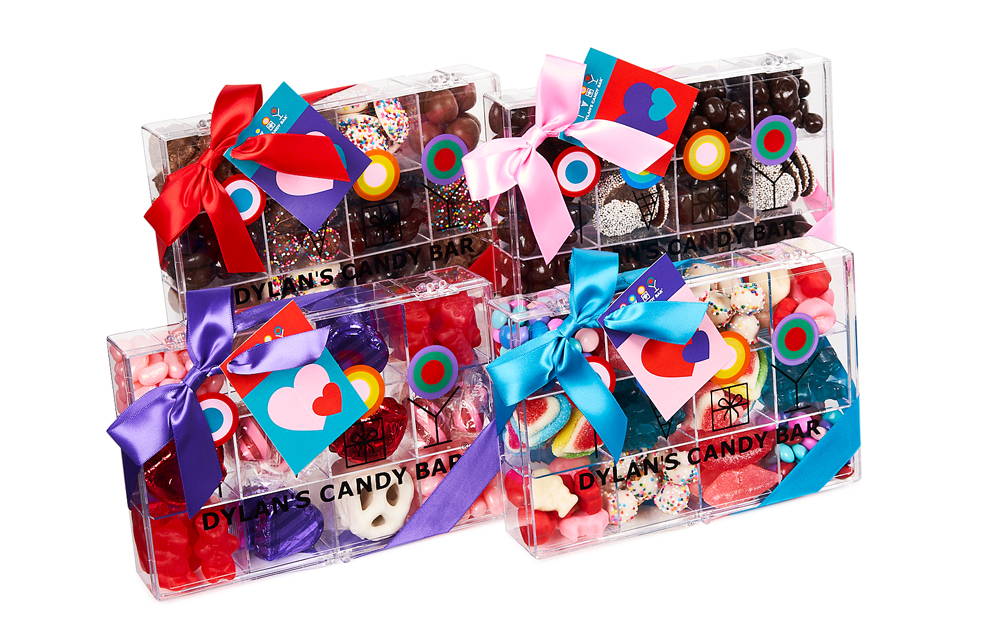 Do you have favorite decorating, recipe, or crafting ideas using items from this collection? 
The packaging is so fun with this collection that I would use it as decoration. There are all of these sort of surprise elements in each product, so you could use it as a table setting or centerpiece for a romantic dinner or as a place setting at the breakfast table when your child's waking up. I would really put things anywhere in the house. There are gifts that could go on a desk or the entry table in the foyer, and doing that makes things surprising and whimsical, kind of like "you know you never know what's going to show up!"   
You could also incorporate things into activities, like playing tic-tac-toe with candy pieces or doing blind taste testing with a tackle box. The gummy kebobs, lollipops and chocolate heart pops would look great in a Valentine's bouquet or added to a centerpiece. I think that would look really pretty!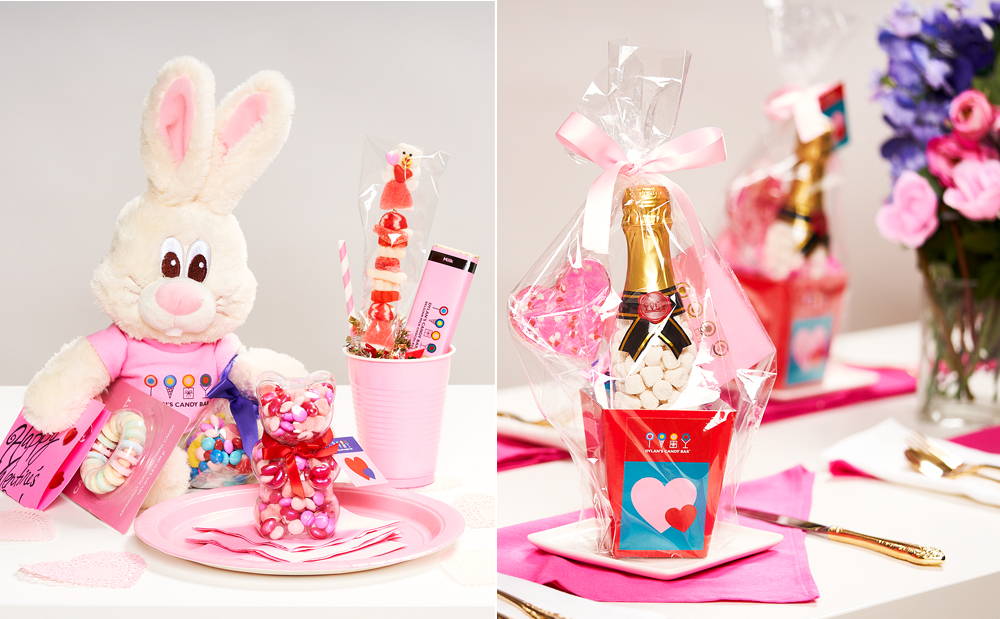 Are there any extra "fun facts" about this collection? 
When we were shooting the collection, there was a coworker of our photographer who kept sneaking samples of the candy! I loved it. He was sitting at his desk and you could tell he was really enjoying everything; I totally didn't expect which would be his favorites. He wanted all the gummies, all the bright marshmallow things. It really drove home the idea that this holiday is for everyone so they can indulge their inner child. I was so happy to be able to try some things as well once the shoot was over!